fillmyan.us
Home | Steam | Live Stream | Chat | Github
Welcome to fillmyan.us

This is my personal website and home of all of my useless creations. A proper reflection of my life.

About Me

I like to play video games and make useless software. I also created a fake Church at lethiminyou.net. Chat with me on Matrix. Btw, I use Arch!

Systems

Lenovo Thinkpad X220 Tablet
| Intel i5 2520M
| 4gb DDR3 RAM
| Wacom ISDv4 E6 Touchscreen
| 500GB Samsung Evo 860 SSD

Gaming Rig
| AMD Ryzen 7 3700x
| Gigabyte Aorus x570 Ultra
| 32gb Gskill DDR4-3200 RAM
| Gigabyte Radeon RX 5700 XT

Server
| Intel Xeon E3-1246v3
| 16gb Gskill DDR3-1600

Downloads

| Boogerwall - Videogame
| Homo Checker(CLI) - Software
| Homo Checker(GUI) - Software
| HomoChecker is now a web app!
| Piper - Software
| Fag - Android Application

Game Servers

| Minecraft - World Map - Players: Offline
--mc.fillmyan.us
| Minecraft - Valhelsia - Players: Offline
--mc2.fillmyan.us
| Terraria
--game.fillmyan.us:7777
| Instagib Deathmatch - Xonotic

Pixel Art

All my art is done with Aseprite using a 56 color NES palette on my Thinkpad tablet.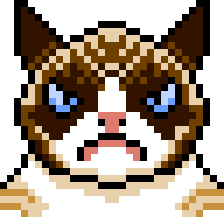 Animation

I use Pencil2D to animate. Enjoy.